Being able to jump on a plane and fly to amazing destinations that offer either bareboat or crewed catamaran charters, is the most exciting vacation package and memorable experience you will have all year.
GoCats staff have the experience to make it all happen for you and your group. We not only know and have sailed many of the model catamarans listed, but also can advise first hand of the destinations because we have sailed there.
Indian Ocean
Sechelles Best Cruising Months: May - October
This set of islands is right up there as being one of the best charter destinations. The beaches, coral, tropical islands with unique rock formations, amazing flora & fauna, are a sight to behold.
Thailand (Phuket) & Malaysia
Best Cruising Months: Nov. - mid-May
​Now here is exotica at it's best. There is nothing like it anywhere else.
There are a miriad of tropical islands with spectacular scenery. Experience this laid back Asian way of life, with friendly people and prices you can afford. Prize winning game fishing.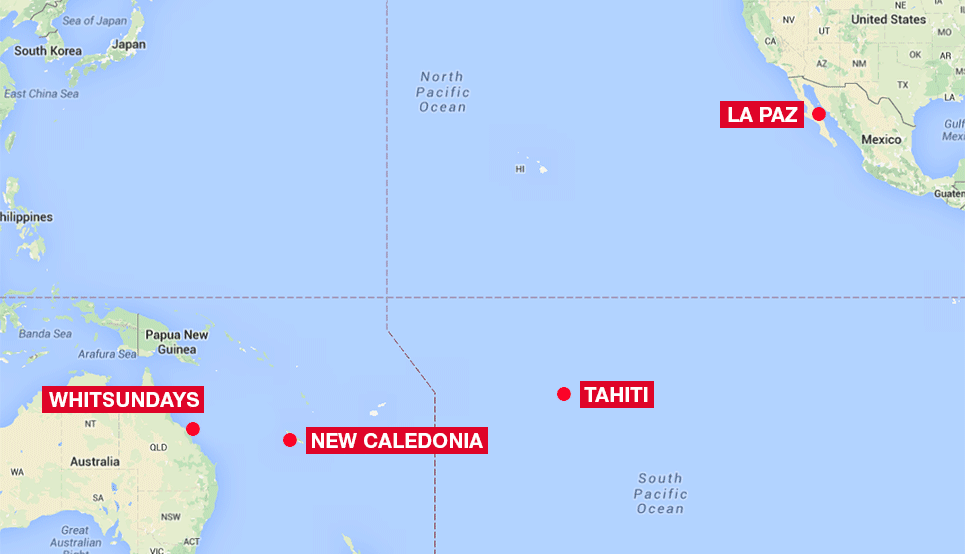 Australia (Whitsundays): Best Cruising Months: April - December
74 islands in this majestic group of tropical islands, right next to the famous Great Barrier Reef. This is the ultimate area for viewing coral and tropical fish.
New Caledonia: .Best Cruising Months: April - November
Sail the largest tropical Lagoon in the World and visit the magnificent Isle of Pines. An incredible blend of Melanesian and French culture, enhanced by Polynesian and Asian influences
​
Tahiti: Best Cruising Months: April - November
Like sailing into heaven. rugged mountain peaks, beaches, coral & lagoons like you've never seen before. A true Polynesian experience.
Mexico (La Paz) Best Cruising Months: October - May
Stunning desert vistas in the Sea of Cortez. A peaceful and safe laid back corner of Mexico.

Caribbean
Best Cruising Months: December - May.

The Caribbean is made up of 100's of islands, but there are 8 major cruising areas to consider. They are:
- Bahamas
- Virgin Islands (British, Spanish & US)
- St.Martin
- Antigua
- Guadeloupe
- Martinique
- Grenadines
- Belize
Mediterranean & Atlantic
Best Cruising Months for Mediterranean: May - October
Discover the historical treasures of the Med.

The Mediterranean is split between Western Mediterranean and Eastern Mediterranean:
Western Mediterranean covers:
- Italy
- Sicily
- Sardinia
- Corsica
- French Riviera
- Spain
Eastern Mediterranean covers:
- Greece
- Turkey
- Montenegro
- Croatia
In the Atlantic Ocean catamarans are available from:
- Cape Verdes Islands. Best Cruising October- May
- Brazil. Best cruising from November - April